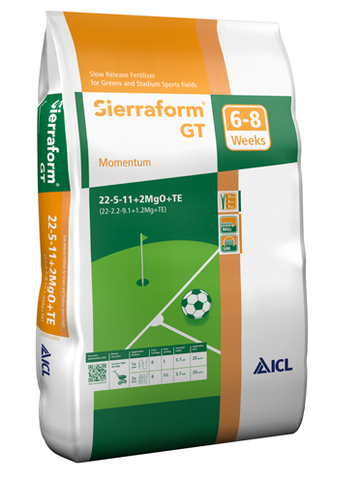 ICL Sierraform GT Momentum 22.5.11+2%Mgo+TE 20Kg
SierraformGT Momentum 22-5-11+MgO is made up of small uniform granules, allowing for even spreading and fast application. It comes equipped with ICL's patented MU2 and SilK coating technologies. Its 4:1:2 ratio meets turf nutritional requirements and is ideal to use during active growth periods in spring and summer.
It contains slow-release Nitrogen and Potassium, Phosphorus, Magnesium, and trace elements. Magnesium enhances turf color while the trace element package ensures maximum health. It is particularly suitable for use on fine turf areas.
Granule size
0.7-1.4mm
Avg Recommended Rate
25 g/m²
Product Dispersal
2-3 days
Recommended Rate
20.00 - 30.00 g/m²
Turf Response
7 days