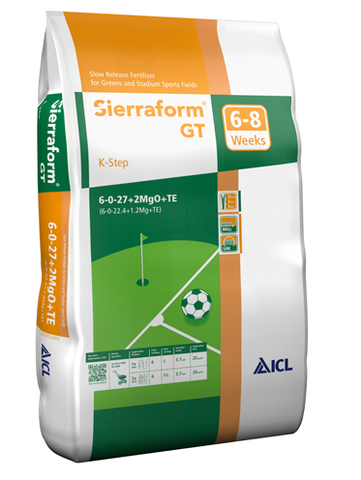 ICL Sierraform GT K-Step 6.0.27+2%MgO+TE 20Kg
SierraformGT K-Step 6-0-27+MgO is a NPK fertilizer that contains ICL's patented MU2 and SilK technologies. It has a low Nitrogen content to stimulate compact growth and to harden the turf.
It contains high amounts of Potassium which also harden the turf in stressful summer or winter conditions. It has a full trace element package, and is ideal for use as a pre-stress conditioner on fine turf areas. The Phosphate free formulation assists with managing any Phosphorous buildup.
Granule size
0.7-1.4mm
Avg Recommended Rate
25 g/m²
Recommended Rate
20.00 - 30.00 g/m²