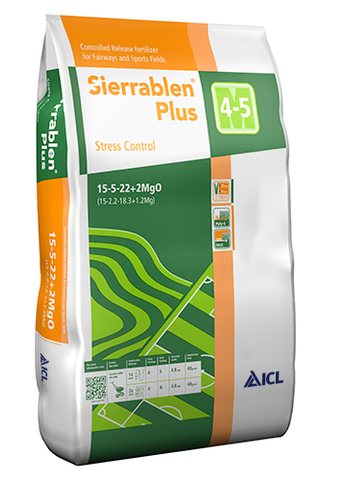 ICL Sierrablen Plus Stress Control 15.5.22+2%MgO 4-5M 25Kg
SierrablenPlus 15-5-22+2MgO comes with controlled release Nitrogen, which is only dispensed during favorable growing conditions, helping to pre-stress condition the plant.
Its Magnesium content enhances turf color and masks stress symptoms. Additionally, high Potassium levels strengthen the plant's cell walls. It comes equipped with Everris' patented Poly-S and Pace coating technologies.
Longevity
4-5 Months
Granule size
1.0-2.5mm
Avg Recommended Rate
37.5 g/m²
Product Dispersal
7 days (visually dispersed from surface)
Recommended Rate
30.00 - 45.00 g/m²