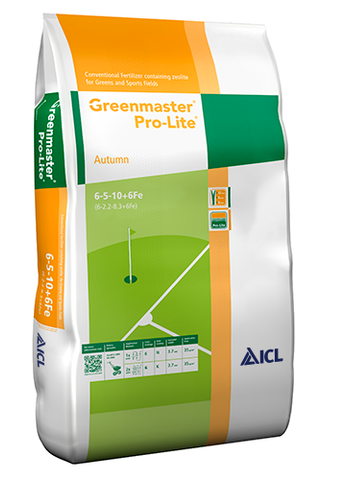 ICL Greenmaster Autumn 6.5.11+6%Fe 25kg
Greenmaster Pro-Lite Autumn provides enough Phosphate and Potash to stimulate root development while discouraging soft growth. Low ammonium Nitrogen content helps to initiate plant growth while avoiding lush and weak growth.
With its 6% Iron content, growers need to avoid using it on area's that contain moss, as it negatively affects its growth pattern. Greenmaster Pro-Lite Autumn strengthens the sward to overcome any mechanical-related damage and improves the overall health and appearance of fine turf.
Granule size
0.5-1.7mm
Longevity
6 Weeks
Product Dispersal
3-4 days
Recommended Rate
30.00 - 35.00 g/m²
Turf Response
7 days